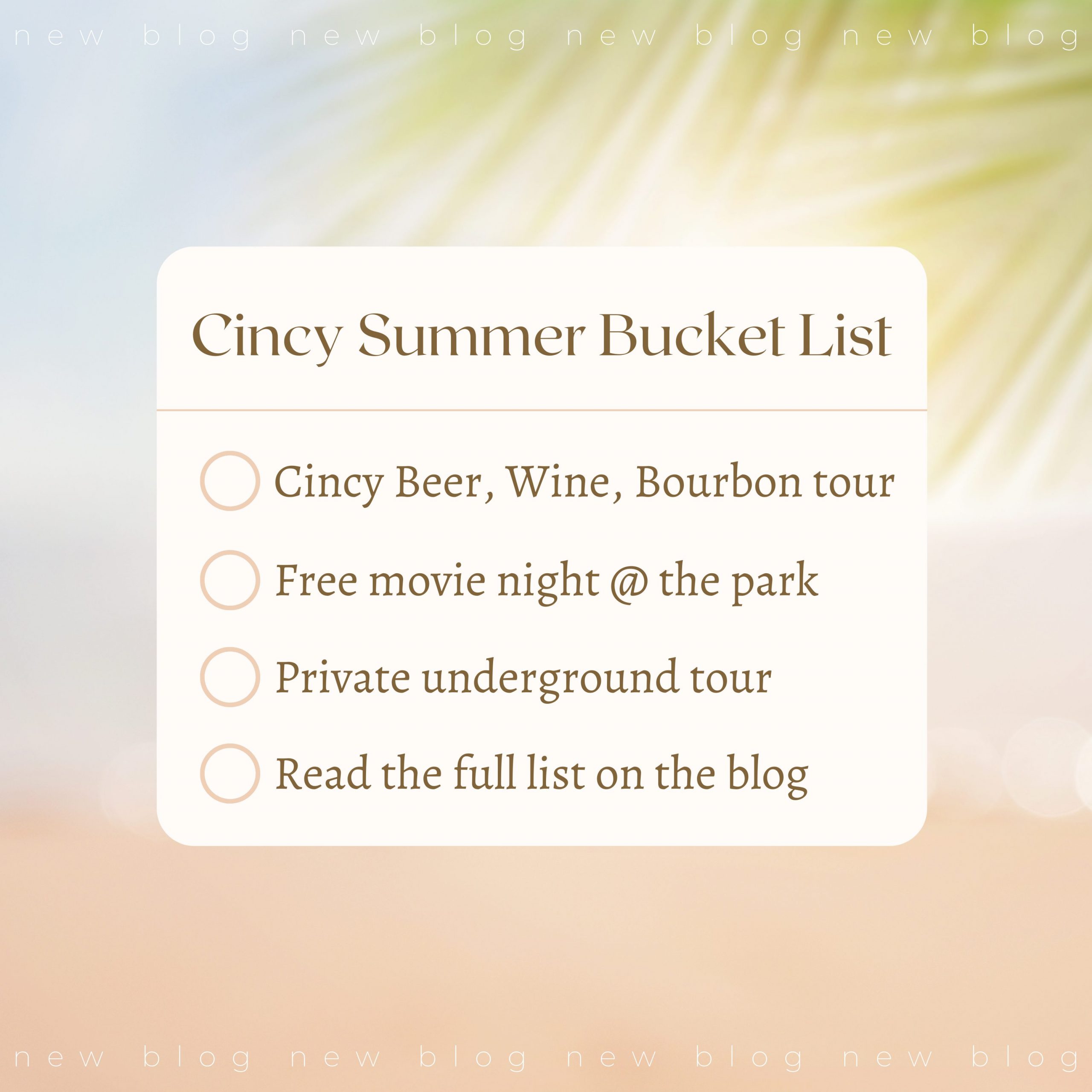 Summer is officially here, who's excited?! I know I am. If you're looking for something fun to do in Cincinnati this summer, you've came to the right place. Here's part one of my summer bucket list:
Get Fresh Air and Sunshine
-Have some fun in the sun renting a canoe or kayak on the Little Miami River. Scenic River offers canoe, kayak and tube trip rentals. You can purchase your tickets ahead of time here.
-Whether you like to walk your dog or take a bike ride, the Loveland Bike trail is a fun way to spend your day! Don't own a bike? No worries, you can rent one!
-Gather up your family or friends to enjoy some drinks and play some sand volleyball at Fifty West. Fifty West has a total of six outdoor sand volleyball courts and hosts weekly leagues and tournaments.
Attend an Event or Take a Tour
-Schedule a Cincinnati beer, wine or bourbon tour. The brewery locations change based on the date of the tour. You can check the schedule on their website.
-Attend an event at Fountain Square. From trivia night to salsa night… there's something fun for everyone! Check out their list of events here.
-Discover a different side of Cincinnati on a guided tour of the city's underground tunnels. This tour is about 2 and a half hours, loaded with history about Cincinnati. You can purchase your tickets here.
Kick Back and Relax
-Cool off and visit one of Cincinnati's local ice cream shops. Some of my favorites are The Cone, Flubbs, Norwood Delite Creamy Whip and Aglamesis Brothers. Stay tuned for a full list of Cincy's best ice cream shops!
-Check out one of Cincinnati's rooftop bars. There's nothing better than a cold drink with a nice view. Check out my list of Cincinnati's rooftop bars here.
-Pack your blankets, lawn chairs and your favorite snacks… there are tons of free movies playing this summer at our local parks. Summit Park, Washington Park and at the Liberty Center, to name a few.
Don't Forget the Cincy Favorites
-A day at the Cincinnati Zoo is always fun. Fiona will sure bring a smile to your face!
-Watch your favorite Cincinnati sports team(s) play. The Red's and FC Cincinnati have games lined up all summer long!
This list should keep you busy for the next month or so… stay tuned for my summer bucket list, part two! Make sure to follow along my social media for news and events throughout the summer in Cincinnati, @ HomewithHannahDowns. Cheers to fun summer, 2022!