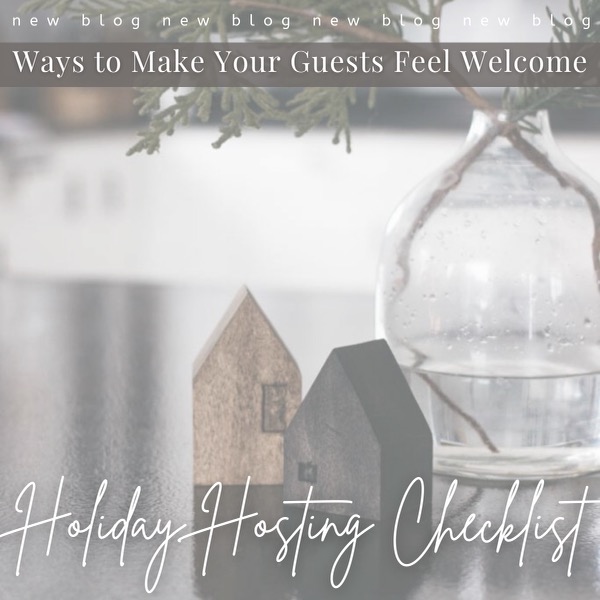 It's always great to have family visit and stay with you over the holidays. You get to be a tourist in your own city, as you show them around your fav places and eat at local hot spots. When your guests arrive, you want to make sure they feel comfortable in your home. Here's a holiday hosting checklist of ways to make your guests feel welcome in your home this season:
-Offer to leave a key or your keyless entry code. Sometimes it's just easier that way.
-Offer a house tour upon arrival. Make sure your guests feel comfortable and know where everything is (especially where the extra toilet paper or towels are located, ha!)
-Have the essentials clean and ready to go. Make sure you have nice, clean sheets, plenty of fluffy pillows, and extra blankets near the bed. Have extra towels clean and folded. Everyone has different comfort levels and what you might think is enough actually won't be!
-Have a welcoming basket! Collect body wash, shampoo, toothpaste, lotion, toothbrushes etc. and put them in a cute basket in your guest room.  (I love using free samples or hotel freebies that I've collected for this.) Maybe even add some of their fav snacks and candy!
-Make room for their belongings. Whether they're staying in a spare bedroom room or sleeping on an air mattress in the living room, you want to make sure to provide an area where your guests can put their things and not feel like they're in the way.
-Place a charger by their bed. There is nothing worse than traveling and forgetting your phone charger.
-Have extra water bottles ready to go! Setting a water bottle or two on your night stand can add an extra touch.
-Have a notecard with the wifi password written down so your guests can easily access the internet.
-Stock the fridge. Is there a special snack or drink you know your guests love? Get it all at the store beforehand. Make sure you have enough alcohol and coffee. Remember, they are on vacation!
-Get out of the house! Provide a travel guide or make an itinerary. Yes, I've made an itinerary for my family this week! You get to show off your city, make it fun.
Making friends and family feel welcome is so important. Give yourself a pat on the back for being this years host. I hope you enjoy this special time with your loved ones! Happy Holidays!