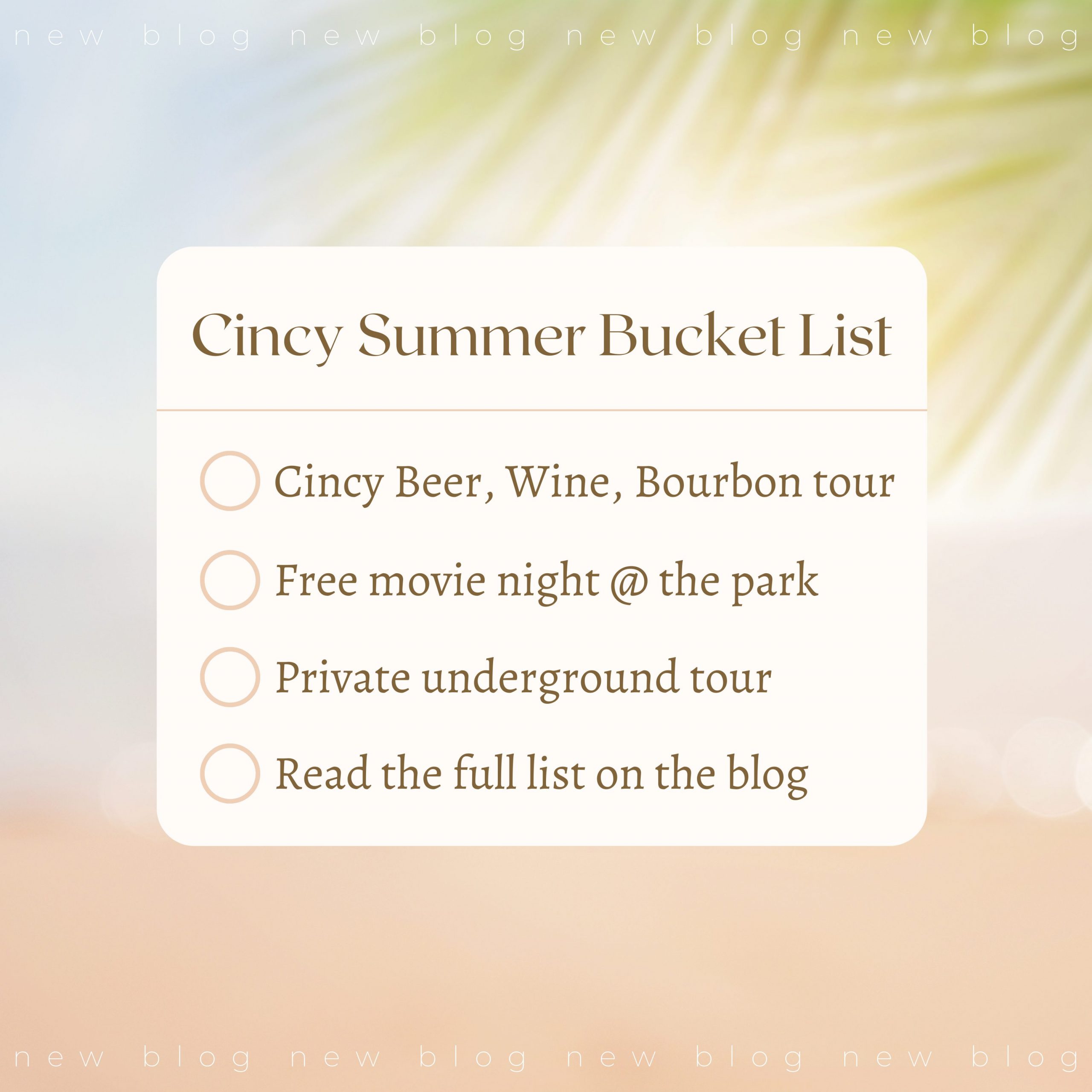 Summer is officially here, who's excited?! I know I am. If you're looking for something fun to do in Cincinnati this summer, you've came to the right place. Here's part one of my summer bucket list:
Get Fresh Air and Sunshine
-Have some fun in the sun renting a canoe or kayak on the Little Miami River. Scenic River offers canoe, kayak and tube trip rentals. You can purchase your tickets ahead of time here.
-Whether you like to walk your dog or take a bike ride, the Loveland Bike trail is a fun way to spend your day! Don't own a bike? No worries, you can rent one!
-Gather up your family or friends to enjoy some drinks and play some sand volleyball at Fifty West. Fifty West has a total of six outdoor sand volleyball courts and hosts weekly leagues and tournaments.
Attend an Event or Take a Tour
-Schedule a Cincinnati beer, wine or bourbon tour. The brewery locations change based on the date of the tour. You can check the schedule on their website.
-Attend an event at Fountain Square. From trivia night to salsa night… there's something fun for everyone! Check out their list of events here.
-Discover a different side of Cincinnati on a guided tour of the city's underground tunnels. This tour is about 2 and a half hours, loaded with history about Cincinnati. You can purchase your tickets here.
Kick Back and Relax
-Cool off and visit one of Cincinnati's local ice cream shops. Some of my favorites are The Cone, Flubbs, Norwood Delite Creamy Whip and Aglamesis Brothers. Stay tuned for a full list of Cincy's best ice cream shops!
-Check out one of Cincinnati's rooftop bars. There's nothing better than a cold drink with a nice view. Check out my list of Cincinnati's rooftop bars here.
-Pack your blankets, lawn chairs and your favorite snacks… there are tons of free movies playing this summer at our local parks. Summit Park, Washington Park and at the Liberty Center, to name a few.
Don't Forget the Cincy Favorites
-A day at the Cincinnati Zoo is always fun. Fiona will sure bring a smile to your face!
-Watch your favorite Cincinnati sports team(s) play. The Red's and FC Cincinnati have games lined up all summer long!
This list should keep you busy for the next month or so… stay tuned for my summer bucket list, part two! Make sure to follow along my social media for news and events throughout the summer in Cincinnati, @ HomewithHannahDowns. Cheers to fun summer, 2022!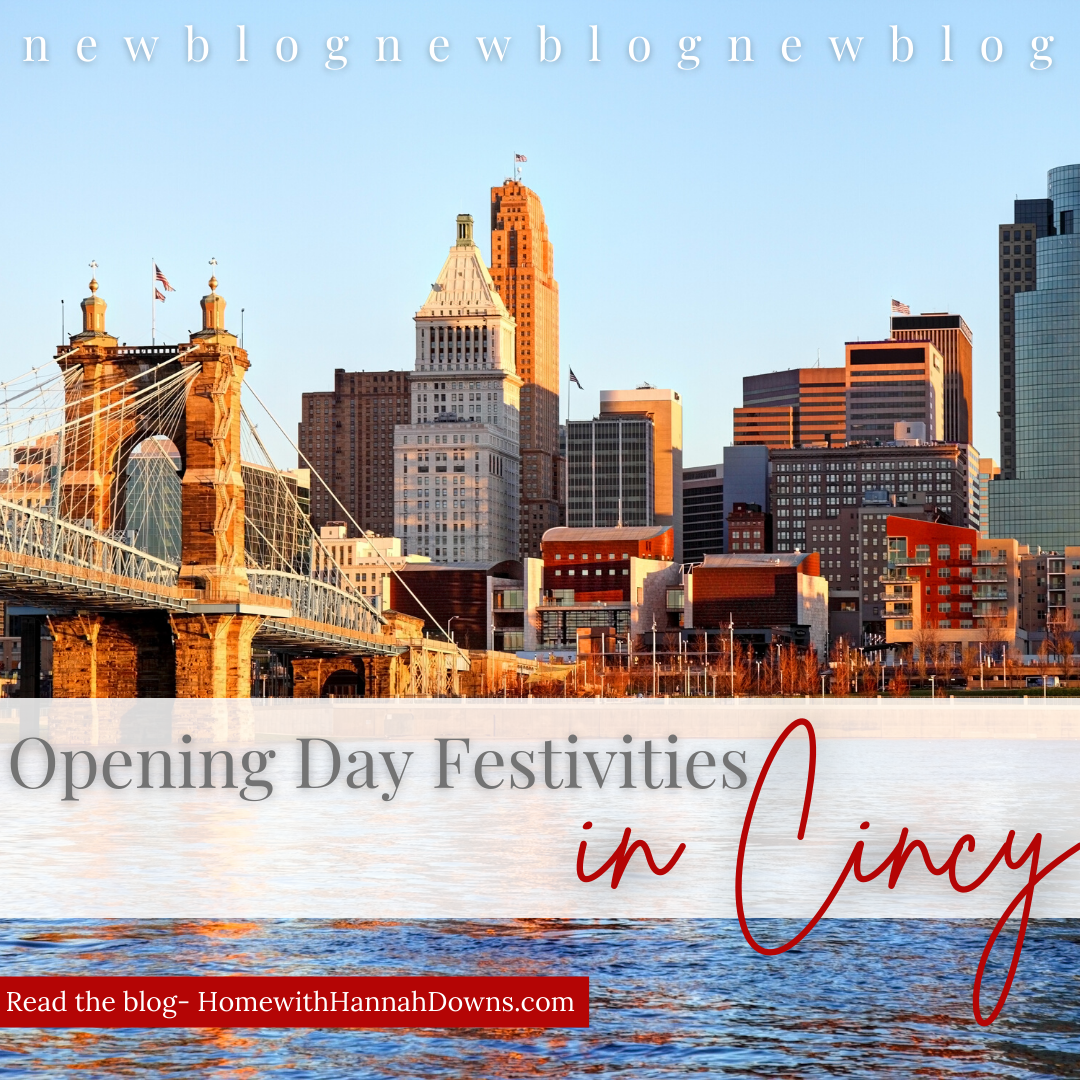 It's an exciting week here in Cincinnati…baseball is officially back! Although the Reds open their season on the road for the first time since 1990, there is no need to leave Cincinnati to celebrate. I've created a list of everything you need to know to enjoy this annual Cincinnati tradition, right here in our city: 
*All of these events will take place on Tuesday April 12th, 2022* 
Washington Park's Opening Day Party– From 10-4 PM, enjoy parade views, live music, family friendly games and activities, giveaways, drink specials and more!  
Opening Day Party at Rhinegeist– The party starts at 9 AM, come party in OTR! Drink specials, live viewing of the game on taproom jumbotron, baseball-themed decor and giveaways. 
Findlay Market Opening Day Parade– Starting at noon, the Parade starts at Findlay Market on Race Street. It will go straight down Race all the way down to 5th, turning east on 5th and ending at the Taft Theater. 
Opening Day at Taft's Ale House– Taft's Ale House is opening at 9 AM to begin the celebrations and the first 100 people to purchase a pint of beer will get a FREE Opening Day koozie! There will be drinks, breakfast, lunch, kids pitching games, coloring stations, a photobooth and even a contest! They will be giving away FRONT ROW seats to the parade, right outside on the Ale House patio.  
Opening Day at Beeline– This party is located at Newport on the Levee. Watch the big game on their giant LED's and enjoy a drink or two at their riverfront cocktail bar! Take advantage of their drink specials. 
Reds Opening Day at Braxton Cincinnati– Kick off Reds Opening Day at Braxton Cincinnati! You can enjoy the first Reds Game of the season at 4:10 PM at Braxton Brewing Co. They have cold drinks, great vibes and tons of TV's… you can't miss the game here! 
Opening Day at The Banks– Several establishments at The Banks will be opening early to celebrate the return of baseball in Cincinnati. Enjoy drinks specials and all-day celebrations. Not to mention, this location is a part of the DORA zone.  
As always, be safe, have fun and go Reds!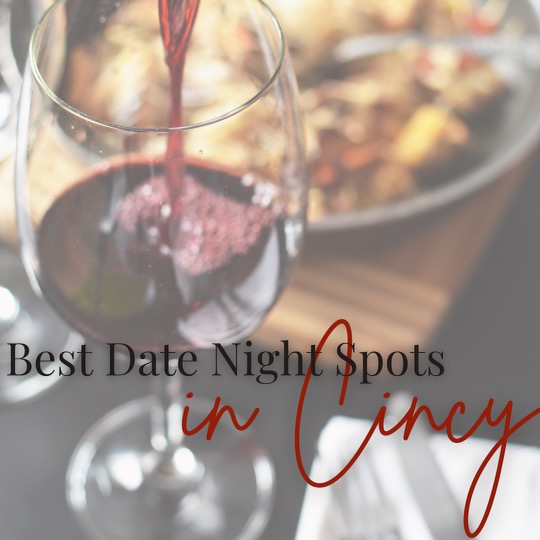 Calling all Cincinnati couples... this blog is just for you! My anniversary is just around the corner and one of my favorite things to do is put on a cute outfit and go on a special date. Although, you may be like me and feel like you've just about ran out of dinner ideas. I think it's time we all try something new. Enjoy this list of best date night spots in Cincinnati. Send this to your significant other for a hint... 😉 
Whether it's your anniversary or "just because", we all deserve a special date night. Make sure you click on each restaurant that's listed, as it's linked to each website for more details. Please reach out to me and let me know if you try any of these fabulous places with your significant other. I always love hearing your feedback. Enjoy!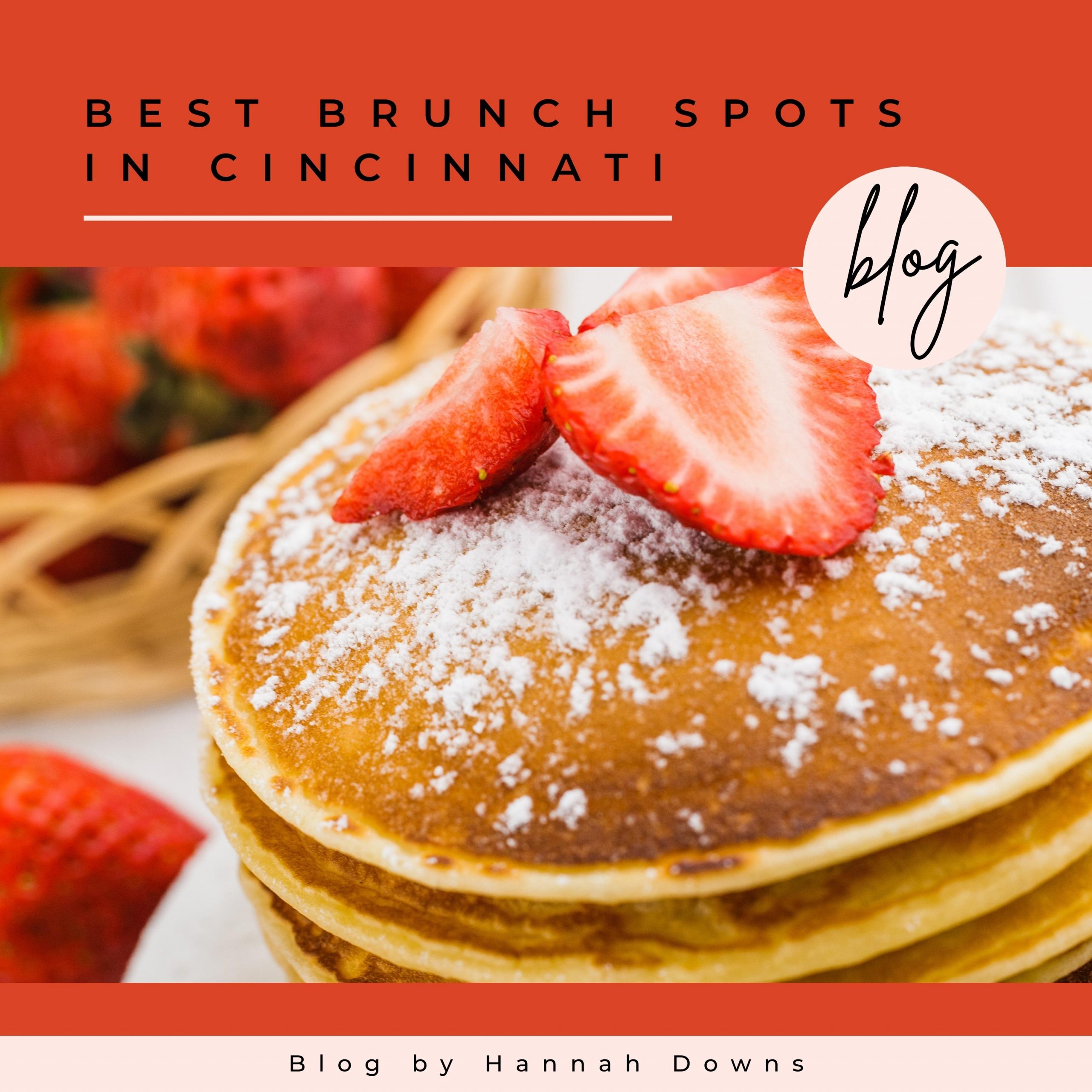 There's nothing better than a weekend brunch! If you're located in Cincy, love a good brunch and you're not sure of where to go, keep reading…
I asked around the locals in Cincinnati what everyone's favorite brunch spot is and why. Here's what I got:
•Red Feather Kitchen– Red Feather offers an upscale – casual dining experience, located in Oakley. Brittany C. was first to recommend this unique brunch spot. "Red Feather hands down has the best build your own bloody. The entire menu is 😍 *heart eye emoji*" – Brittany C. I can't forget to mention, their sausage biscuits and gravy are to die for!
•Half Day Cafe–  Check out this neighborhood family cafe, located in Wyoming and now Mason. "We love the atmosphere and the building. The staff is amazing and the food is incredible (especially the Mango Butter Rum Pancakes)"-Danielle H. "We're kind of thinking that Cincinnati breakfast should be a blend of expected standards and unexpected surprises."- Half Day Cafe.
•Toast and Berry– Toast and Berry is located in the heart of Montgomery. Everything served is made with fresh, high quality ingredients. You will not want to miss out on their cinnamon roll french toast. Keep in mind, Toast and Berry does not take reservations.
•Sugar n' Spice Diner– This diner has been serving Cincinnati since 1941! "Today, Sugar n' Spice prides itself on creating a fun, friendly, comfortable atmosphere, serving the same great food that has kept people coming back for generations."- Sugar n' Spice. This diner has two locations within Cincinnati, downtown Cincy and Reading Rd. Every person gets a special surprise at the end of brunch… you're going to love this place!
•The Echo– Located in Hyde Park, this brunch spot is one of a kind. The menu always has weekly features, you can check it out online before going. "I have been going for years. I recommend getting the hot mess!"- Becky T. Great food, great location! If you're in for a Sunday brunch at the Echo, make sure you check out the Hyde Park Farmers market after you eat.
•Hangover Easy-"Favorite brunch spot is Hangover Easy because they have unique options!" -Christina L. Hangover Easy is known for having tons of selections. Savory, sweet and even lunch options for those who don't like breakfast foods. Plus the cocktails are amazing! Located on Short Vine in Clifton.
•Boomtown Biscuits & Whiskey– It sounds like this spot has the best biscuits in town. "Best biscuits around by far. Like I could eat them until the point of being unable to breathe. They also have amazing Thai lemongrass shrimp & grits, and honestly so many other good things on their menu! Their service and owner/managers are also always fantastic!"- Emily W. This spot is located on Broadway Street.
•Northside Yacht Club – Brunch is only available on Sundays at the Northside Yacht Club. This spot is unique and I hear their bloody Mary's are to die for! Bring your pup to brunch because the patio is pet friendly. If you hadn't guessed already, this brunch spot is located in Northside.
•Crown Republic Gastropub– From bottomless mimosas to a hearty brunch, you can't go wrong with this place! Crown Republic is located in the heart of OTR. I went myself and tried the business special…it was amazing! The portions were fairly large. I left brunch feeling happy + full.
•Maplewood Kitchen and Bar– Offers a West Coast-style cuisine. "They excel at all things I look for in a brunch place…brunch menu options are unique and taste  amazing! (Sweet and Savory). Juices are not an afterthought, they are fresh squeezed and delicious- not pre made. Their coffee is from an espresso bar…. no watered down crap in a canteen!" – Ali-Page W. Sounds like this place has it all! Located downtown and now in Mason.
•Taste of Belgium– Taste of Belgium is a restaurant group of Belgian-inspired eateries. There are currently six locations throughout Cincinnati. "They have the best waffles hands DOWN! I have tried a few and nothing compares, probably because it's the best waffle ever"- Christina L. Emily recommends getting the nutella and banana waffle. The goetta hash is pretty bomb too. Check out their website (linked above) to make your reservation today!
Now you're never going to run out of places to brunch! Feel free to let me know if you tried anywhere recommended. I'd love to hear about your experience too.
*For more details, make sure you check out the websites linked above. Hours of operation may vary due to COVID.*
Check out the Home with Hannah Downs blog for more fun things in Cincinnati. Stay tuned for brunch list number TWO, as I've received tons more brunch recommendations!